The West Shires Alpaca Group ran the first session of its "All About The Fibre" course and today's was all about fibre collection, from preparing for shearing, how to make sure shearing day runs smoothly to prepping fibre for showing and production. Ideas and best practice were shared from members old and new – there is always something to learn!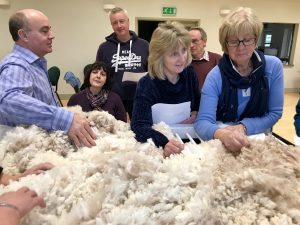 Thanks to everyone for attending, we hope you found it useful and enjoyable, and special thanks go to Julia Berry for organising the event, and to Jay Holland and James Hamilton for their input re: shearing and fleece judging.
The next in the series will cover deciding what to do with the fibre – selling wholesale, processing commercially, selling processed fibre to crafters, using it yourself.  The third and final session will look at how you can use and process your fibre, looking at the various crafts. produce an end product yourself.
Please look out for details of dates and locations for the next sessions, hope to see you there!  These sessions are open to all, £5 to members, £10 to non-members.